The day the festival dream died
Baby Björn-swaddled David Cameron meets Jeremy Clarkson at Alex James's cheese festival – could it get any worse?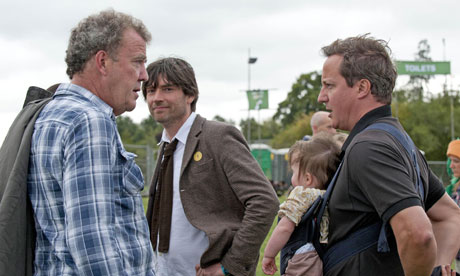 Behold, a snapshop from last weekend's Harvest festival organised by Alex James.
This, from The Guardian.
Alex James was the guitarist in Blur, now into cheese, apparently.
I just had to share this pic of the British PM wearing his baby. Check how he is expanding his chest, and doesn't touch the baby, as if he's ignoring the fact he is wearing a baby. But anyhoo, good on him for wearing his baby. Can't recall seeing any Australian male politicians wearing a baby pouch.